Customer Information
Build trust and engage users by showing important info about your website - new content, promotional sale, cookies notification, the refund policy and more!
Move visitors from strangers to repeat customers
Effective sales funnel management.
Get Started Now No obligations, no contracts, cancel at any time
Let your visitors feel more comfortable by
notifying about website updates
Build strong relationships with customers
Manage your sales funnel more effectively with information campaigns
Analyze customers behavior with advanced tools and optimize your Funnel
Update your visitors about new products & display a promotional sales increase engagement and drive more results
Informational
Create an informational notification to let your visitors know about a profitable sale, new product or share any other important news! Use a proficient Funnel Base interface to check detailed statistics: clicks, mouse hovers and impressions to align your sales funnel management.
Video
Due to statistics, videos can increase website and landing page conversions by 80% or more. If you have a video presentation of the new product or promo - show it on your website! Select the position of the notification - it can be anywhere on the screen. You can even display your video on certain website pages - for example on the product page. Use a variety of advanced tools to improve users' experience.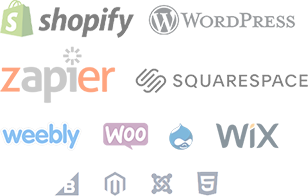 Integrate with any Website
+ All Major Website and eCommerce Platforms