Increase Your Sales & Conversions

With

Lead Capture Forms

Fully control your sales funnel and generate more leads

Use the progressive interface to decide when and where to show lead capture form, easily customize it and get complete statistics and analytics about each form! Lead generation is a top priority for any online business

Push visitors to the next step in your Funnel using micro-conversions
Email Collector
Display an email collector on your website offering a special deal, sale or letting visitors sign-up to your newsletter. Сustomize it to get more results, capture data and watch the statistics. Keep your customers visit your website again and again.
Phone Collector
Let your visitors leave their phone number if they have any questions or offer an attractive discount - a win-win situation for both the buyer and seller. Try to play with the position - place the notification in the right bottom corner of the screen or in the middle center. Analyze the results and use the most effective ones.
Countdown Collector
Activate the fear of missing out (FOMO) effect with countdown collector. Create a time-bound offer: a free webinar, video or discount to grab your visitors' attention and generate more leads. Activate the trigger on all website pages or choose the ones you need. Analyze the results with Funnel Base advanced tools and build up your sales funnel more effectively.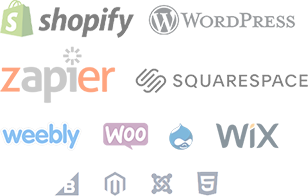 Integrate with any Website
+ All Major Website and eCommerce Platforms