Drive Your Customers To The
Next Sales Funnel Stage!
Trigger your clients based on their behavior and build your retain strategy
We all know how hard it is sometimes to hold your customers and make them loyal.
Optimize your customer journey with leading technologies!
Scratch & Win
Create a scratch & win coupon with a special or limited sale to hold your existing clients. Customize your notification with a user-friendly interface and improve website dynamics by tracking the statistics and understanding your clients better.
Emoji Feedback
Make your customers feel important and involved by displaying an emoji feedback notification. Customer feedback is extremely useful. If you know what's working for your clients and what isn't, you can improve your product and better serve your customers. Besides, you can collect positive feedback and show it to your visitors - this will activate a social proof effect.
Score Feedback
Let your customers decide how they rate their experience with you from 1 to 5. It's a great way to engage your customers, understand them better and improve your products. Funnel Base allows you to track and analyze customers' behavior using advanced tools and create a perfect feedback loop: listening - analyzing - acting.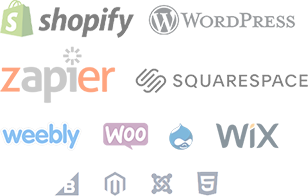 Integrate with any Website
+ All Major Website and eCommerce Platforms