Reviews - YourRevenue Source
Display reviews, videos, and ratings on your site & let the social proof work for you! Implement user-generated content to increase revenues and conversions!
We are all influenced by the actions and recommendations of others.
More than 90% of consumers read online reviews before making a purchase.
Understand clients' feedback & drive better results. Combine user-generated content to help your customers make better purchasing decisions & improve sales funnel.
Smart Conversion Capture
Use the power of advanced tools and easily capture all conversion data happening on your site. Funnel Base technology allows you to automatically collect data about each conversion which synchronizes automatically through real website data. Receive detailed info about your customers & turn them into UGC creators! Use Funnel Base smart interface to capture detailed clients' data & analyze full statistics & enhance your performance. Upgrade and control each step of the customer journey.
Request Review by Email
Turn each purchase into user-generated content with email review requests. Use progressive in-mail technology to collect more reviews, ratings, and videos. Collect data about each conversion & send email requests & instantly show customer reviews on your site! Easily customize each request and motivate clients to leave their review. Make it easy for customers to give their feedback and show the importance of their opinion. Collect reviews more smartly with Funnel Base!
Collect & Leverage Reviews
Easily collect & leverage customer reviews and increase your sales. Funnel Base smart interface allows you to comfortably collect feedback from your clients. Check the collected reviews and data to measure the effectiveness of the communication between you and your customer. Understand your clients better and be ahead of competitors! Use the collected feedback to improve your sales funnel and drive better results.
Display Review & Sell More
Increase your sales and conversion by displaying reviews on any page on your site! Display customer reviews on your homepage to encourage product discovery, on product pages to maximize conversions or even show an entire widget to triple the social proof effect! Easy to use interface allows you to select any screen position for your review and customize it at your taste. Use the power of UGC and Social Proof to engage more shoppers to your site & convert in a smarter way.
Why Use Video Reviews?
Video content triggers emotions and emotions are the primary drivers of decision-making. Videos are the best marketing instrument at generation emotional connections. Funnel Base makes it easy to collect video reviews from your clients and show them on your website! When a customer is visibly thankful and happy because of your product, website visitors will feel it too. Activate positive emotions in your potential clients in seconds with video testimonials! Attract more customers & improve your sales funnel with the help of video content.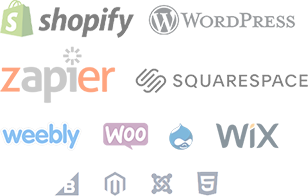 Integrate with any Website
+ All Major Website and eCommerce Platforms